Wholesale
Richardson's Jersey Royals 600g, 750g, 1kg.
Packed in "Richardson's" 600mm x 400mm x 105mm cardboard trays.
Bag / Tray dimensions create a self-supporting perfect pallet.
Pallets corner posted, horizontally, vertically and diagonally strapped.
Easy cross-docking.
Distinctive Yellow pallets
600g packed 14 bags per tray (first online/retail packs of the season).
750g packed 12 bags per tray (second online/retail packs of the season).
1kg packed 10 bags per tray (third online/retail packs until the end of the season).
Palletised 80 /100 trays per pallet depending on bag size and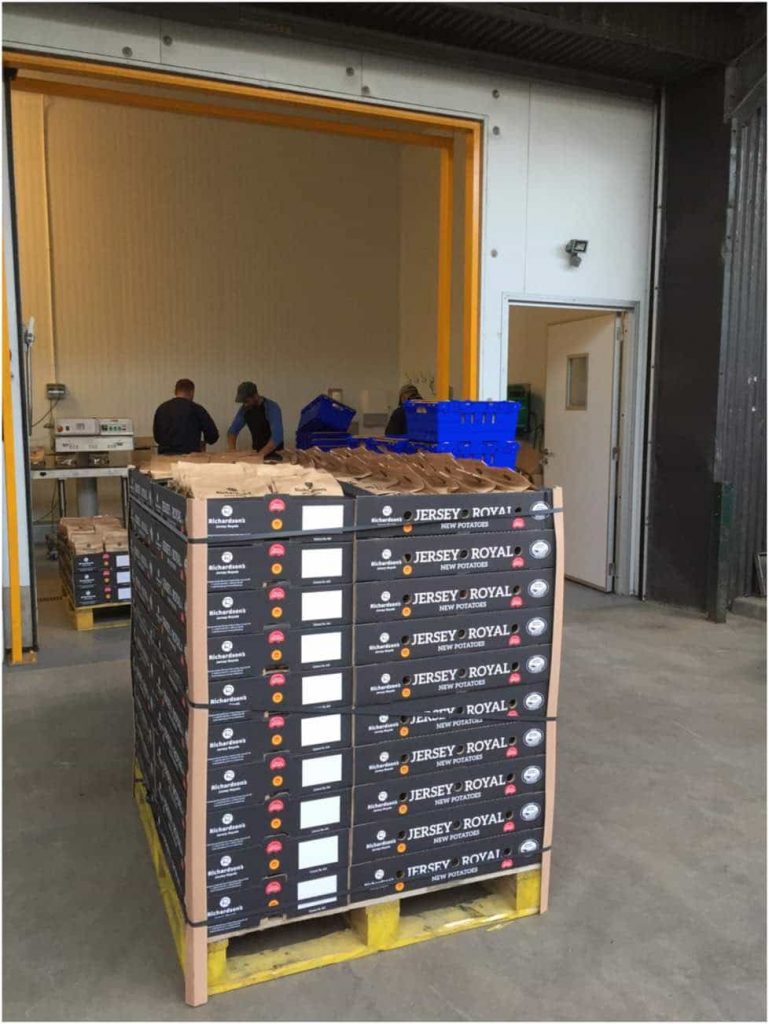 All pallets are by conventional Cool Chain transport.
Great eating experience for the consumer, our system from field to fork is totally unique in the potato industry.
The potatoes are hand picked and gently packed within minutes in the field. The system holds the freshness and ensures that the potatoes retain as much of their delicate skins as possible in order to fully capture the famous Jersey Royal flavour. Heat sealing the bags ensures the freshness is sealed in!
Once sealed, the bags are packed in our distintive black trays. This part of the system delivers the highest level of protection and makes handling easy.
Our distinctive display units are available free of charge to help drive sales. (See Retail).
All of our crops have been grown with the assistance of liquid seaweed and this is very beneficial not only to the soil but to the flavour and texture of our Royals.
Grown to LEAF Marque standard